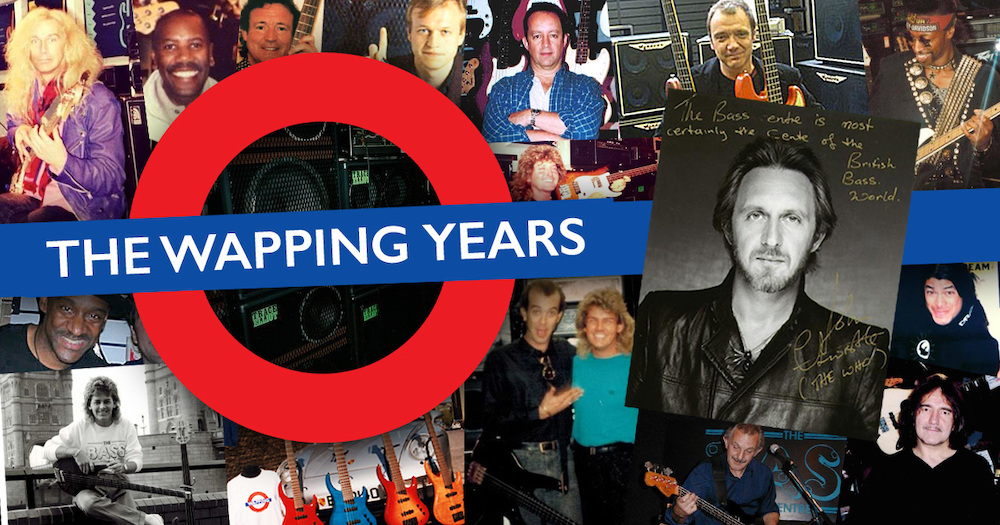 Throughout the '80s and '90s, in a unprepossessing Victorian warehouse building at 131 Wapping High Street, directly opposite the historic Wapping Tube Station, The Bass Centre was - as John Entwistle famously declared - "the centre of the British bass world".
Established in 1984, just as bass playing became cool and the UK music scene exploded in popularity internationally, The Bass Centre was the World's first dedicated bass superstore and our Wapping showroom quickly became a magnet for bassists from across the globe eager to check out the latest and greatest bass gear.
"The Bass Centre is most certainly the centre of the British bass world" — Who legend, John Entwistle
Alongside a huge range of instruments, amplification and accessories from brands such as Fender, Musicman, Gibson, Guild, Ampeg, Peavey, Washburn, Yamaha, Ibanez, Marshall, Boss, Aria, Rickenbacker, SansAmp, EMG, Bartolini and Badass - the Bass Centre also showcased exclusive imports from Alembic, Ned Steinberger, Spector, Tune, Bass Collection, Moon, Sadowsky, Pedulla, Zon, Kubicki, Tobias, Ken Smith, Hipshot, SWR and Hartke as well as groundbreaking, homegrown product from Status, Wal, Trace Elliot, JayDee, Overwater, Sei and Goodfellow and European innovators, Warwick, Vigier and Sandberg.
The bottom line... if it was bass related, you inevitably saw it first in the UK at The Bass Centre.
Now, in the Bass Centre's fourth decade we are now longer a "bricks & mortar" store, but our commitment and dedication to bass remains as strong today as it has always been, with our focus on a discrete selection of prestige lines and our own range of exclusive Bass Centre branded product, all informed by our experience and long history of communication with top players throughout the world.
Here, we celebrate The Bass Centre's golden "Wapping Years" and the huge number of pro players who frequented the Wapping superstore, many of whom become good friends along the way. Whilst some — The Who's John Entwistle, bass masters Greg Lake, Jack Bruce and John Wetton and the visionary Mick Karn — are now sadly departed, many of our long-standing customers, including Dave Bronze, Norman Watt-Roy, Peter Hook, Bruce Thomas, Colin Hodgkinson and Guy Pratt, continue to use, support and inspire the current range of Bass Centre instruments, strings, and accessories.