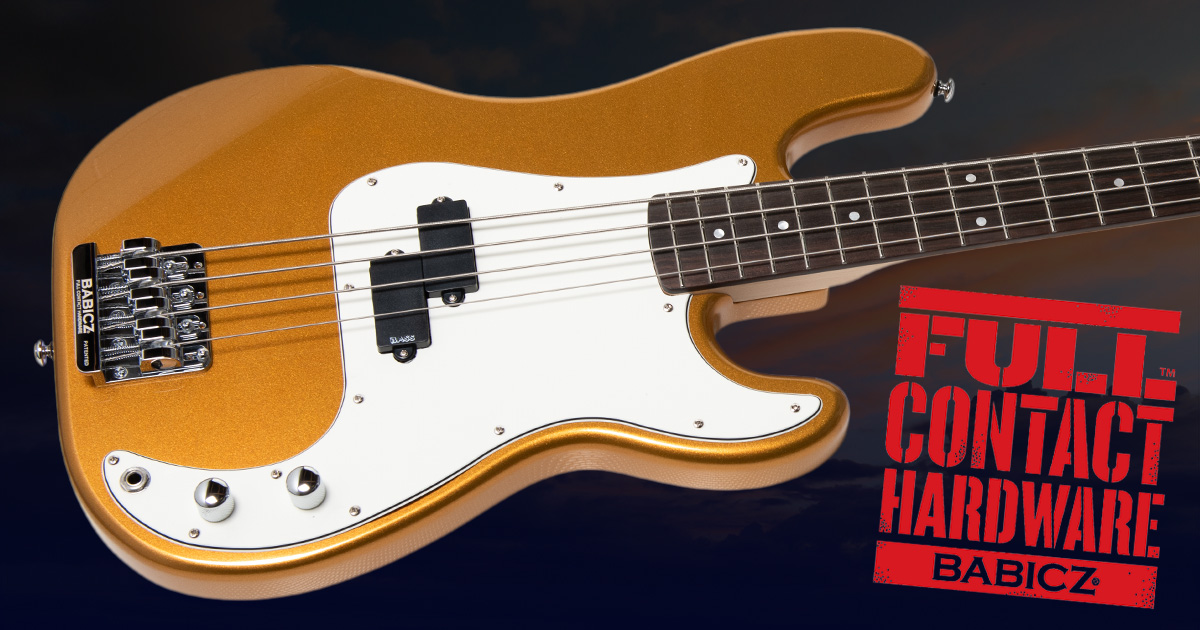 A revolutionary new approach to bridge design, The Babicz Full Contact Hardware system offers "full contact" between the vibrating string and the body of the instrument, with over 50 times more contact surface per saddle compared to conventional saddle designs, maximising sustain and tonal response.
"I only play equipment if it sounds great, and I am only about tone & the resonance of tone, which is why the Babicz Bridge is on MY bass" — Jeff Berlin
Courtesy of its unique, patented eCAM saddle, FCH allows string height and intonation to be set with pinpoint precision, without adding space or air gaps between the saddle and the body of the guitar. Adjustments are firmly and securely locked into place using the "String Height Lock" and "Saddle Housing Lock", ensuring that the bridge saddle can never sink or shift while playing.
Designed as a direct replacement for Gibson and Fender models as well as for your own custom instrument project, the Babicz FCH Bass Bridge - available in a choice of finishes, with 5 string and through body options - is supplied complete with all necessary mounting hardware and is a breeze to install and set-up.
Babicz Full Contact Hardware

Worldwide Export Price:

£73.33

UK Price: £88.00 inc. 20% VAT

Babicz Full Contact Hardware

Worldwide Export Price:

£79.17

UK Price: £95.00 inc. 20% VAT

Babicz Full Contact Hardware

Worldwide Export Price:

£79.17

UK Price: £95.00 inc. 20% VAT

| | | |
| --- | --- | --- |
| | | Currently Sold Out |

Babicz Full Contact Hardware

Worldwide Export Price:

£95.83

UK Price: £115.00 inc. 20% VAT

| | | |
| --- | --- | --- |
| | | Currently Sold Out |

Babicz Full Contact Hardware

Worldwide Export Price:

£79.17

UK Price: £95.00 inc. 20% VAT

Babicz Full Contact Hardware

Worldwide Export Price:

£95.83

UK Price: £115.00 inc. 20% VAT

| | | |
| --- | --- | --- |
| | | Currently Sold Out |

Babicz Full Contact Hardware

Worldwide Export Price:

£100.00

UK Price: £120.00 inc. 20% VAT

Babicz Full Contact Hardware

Worldwide Export Price:

£104.17

UK Price: £125.00 inc. 20% VAT

Babicz Full Contact Hardware

Worldwide Export Price:

£87.50

UK Price: £105.00 inc. 20% VAT

| | | |
| --- | --- | --- |
| | | Currently Sold Out |

Babicz Full Contact Hardware

Worldwide Export Price:

£108.33

UK Price: £130.00 inc. 20% VAT

| | | |
| --- | --- | --- |
| | | Currently Sold Out |

Babicz Full Contact Hardware

Worldwide Export Price:

£107.50

UK Price: £129.00 inc. 20% VAT

Babicz Full Contact Hardware

Worldwide Export Price:

£120.83

UK Price: £145.00 inc. 20% VAT

Babicz Full Contact Hardware

Worldwide Export Price:

£125.00

UK Price: £150.00 inc. 20% VAT

| | | |
| --- | --- | --- |
| | | Currently Sold Out |
Join the growing number of pro players who have already turned on to Full Contact Hardware