THE BASS CENTRE STORY
Mike Brooks & Joel McIver • Bass Guitar Magazine • March 2017
Bass Centre founder Barry Moorhouse and author Tony Bacon have been at the hub of the UK bass scene for ears, so who better to write a book about it? With a new update out now, the duo told BGM more about what led to the making of their acclaimed Bass Book.
Barry Moorhouse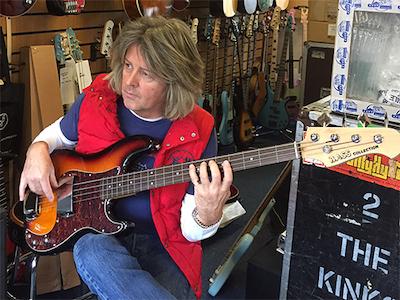 There once existed a bass emporium in old London town that was the hub of all things bass in the UK: this mythical location drew bass players from around the globe, from celebs with gold-plated credit cards to spotty teenagers with pocket money. If you wanted to find something bass specific, you went to the Bass Centre in Wapping: if they didn't have it, they could certainly get hold of it for you. It was an Aladdin's cave of bass goodies, with offerings from the mightiest American boutique builders sitting comfortably next to elite British luthiers such as Wal, Status, and Jaydee.
Timing was everything and by sheer good fortune, the Bass Centre appeared as the bass guitar took off in the UK in an era where bass was an important element in the chart hits of the day. Players wanted to emulate their heroes in the bands they were seeing on TV: prominent among these was the young Mark King, one of the first British bass players to front a chart band, enthralling us with his dynamic playing technique.
Spearheading the Bass Centre was Barry Moorhouse, a lover of all things connected to the bass guitar and a player himself before the store snowballed beyond all expectations. As Barry describes it, he couldn't have planned his decision to open the Bass Centre any better if he tried.
"The Bass Centre started on January 1st, 1984 right in the middle of The Decade Of Bass" recalls Barry. "Mark King seriously put bass playing on the map. He was fronting a band, charting, and selling albums by the bucketload. Level 42 were a hot touring ticket, with runs of shows at Wembley Arena and all of a sudden people knew what a bass guitar was. The slap technique got the bass guitar noticed, and people started going back to Larry Graham and then Stanley Clarke. Everything then escalated and it really took off. The Bass Centre caught that moment — it was so fortuitous."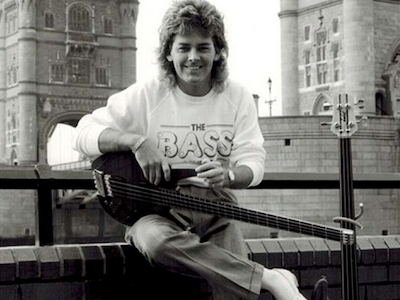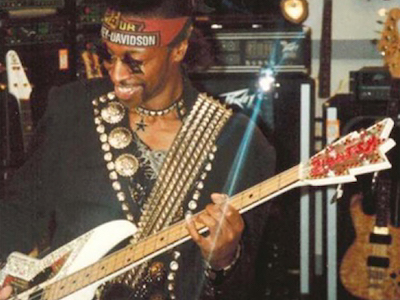 One of Huddersfield-born Barry's biggest bass influences was Chris Squire of Yes. "I just loved his contrapuntal bass-lines, they were sensational" he explains. "Chris was the first guy who I had thought was progressing the instrument."
"The Bass Centre started when I was playing in covers bands by night and running a percussion hire company by day. I started collecting and trading in bass guitars out of a place called Bass Mate in Wapping, which later became the premises for the Bass Centre. I was hiring out percussion instruments to studios, which was quite exciting as I was making contacts, and at the time the Trace Elliot guys were bringing amps in from Soundwave in Essex."
"I was right in the middle of London which gave them a retail outlet in town, so they gave me all their stuff and left me to sell it while they developed their brand. Trace Elliot and the Bass Centre grew in line with each other, and a year later they were so pleased with how well we'd done that they asked if I'd like to invest in Trace Elliot in America. I opened the Bass Centre in LA — and the rest is sort of history!"
Barry's move into the US market had a serious effect on the instruments and amplification which we Brits could finally get our hands on in this country. "I was now bringing in Alembics and Ken Smiths and importing product directly" he remembers. "It was the first time that a lot of this had been done, and that set the seal for what happened later in terms of distribution. I didn't necessarily want to be a distributor, but other shops would come along and ask me to get stuff on their behalf."
"There was no great plan" he reflects. "It was purely driven by the excitement of the whole bass phenomenon catching on. Every day was so exciting. You had no idea who might walk through the door from one day to the next. Meat Loaf's bassist might come in, then Pino Palladino, then John Entwistle might show up in his Rolls Royce, then Bros might appear and spend £4,000 on three Statuses — it was just incredible. I became a workaholic, but it was the very best workaholic experience you could have. It was fabulous!"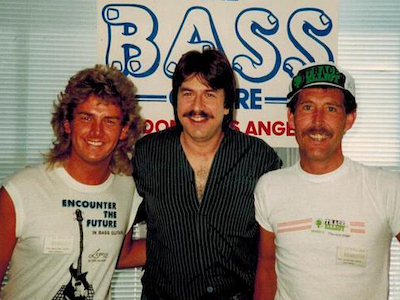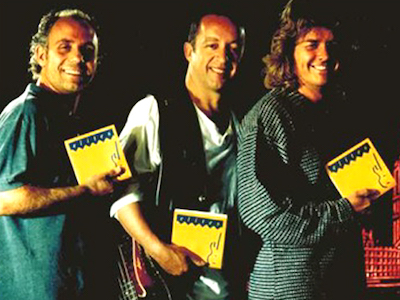 As time passed, Bass Centres opened in Birmingham and Manchester. All of a sudden, Britain had bass stores with profile. "After I became Trace's biggest dealer" says Barry, "I got to know Rob Green at Status and we'd all start going to trade shows together. Looking back, it's amazing that we got any business done! I remember that lan Waller of Wal Basses came over and held court for two or three hours, explaining everything about his basses. l asked him why it was that through-necks are supposedly better for fretless, and yet he makes the best fretless bass — and it's a bolt-on? I remember selling 11 Wals in a single week... but you didn't necessarily think about the finances. It was so busy. In the evenings. I'd have big names calling me to say I was on their guest list for shows, so I'd go into a venue for 10 or 15 minutes to check out the bass sound so I could talk to them about it the next day."
He continues: "We distributed almost every bass and amp brand at some point, Warwick being a perfect example: we carried the full range of their products and instruments. In the end, it became an issue of spinning plates. We had multiple bass stores, and we had acoustic stores because we'd witnessed the 'unplugged' boom. Elites strings were up and running too: they were the easiest thing to get going, because we had loads of endorses but we didn't have to go out and get them — they just walked through the door! Everything we did just seemed to be the next logical thing or the next obvious step."
Stories about the Bass Centre still abound, all these years later. Barrie Cree of Bass Gear recalls a day when he sat in the store, playing the intro to Paul Young's 'Wherever I Lay My Hat' rather badly. The next minute, someone else across the store played the same thing much better — it was the original bassist, Pino Palladino! On another occasion, Hugh McDonald of Bon Jovi told Barry, "We've just been on the plane flying over. I was listening to Boz Burrell of Bad Company — his fretless bass playing is fantastic!" only to be informed that Burrell himself was actually on the premises.
The Bass Centre's heyday came to an end after almost 20 years in Wapping, when Barry and his crew relocated to the Square Mile, close to Liverpool Street. "If we'd been smart. we would have ditched bass guitars and moved into property development, because Wapping became very gentrified" reflects Barry. "When we moved there, it wasn't a pleasant place: it was the cheapest inner London area. We eventually became part of 'the knowledge' — one route that cab drivers had to know was Buckingham Palace to the Bass Centre. I was so proud until I realised there was nowhere else in Wapping!"
"For a quarter of a century, it all basically worked" he recalls, "but then came the economic crash in 2007 and 2008. That said, the internet had already had a negative impact on our business. I remember some guy saying to me "Barry, we need to get online" and I replied, "Is anybody going to buy a £1,000 Music Man without trying it?" How wrong was I!"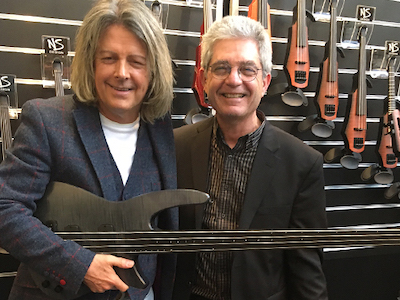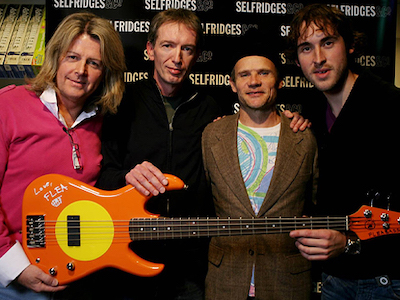 Fashions changed as well: at the end of the '80s, people started playing Fenders again. Bass exotica was out of the window and engineers wouldn't record a Ken Smith six-string anymore. It was a Fender Precision or Jazz, and that was it."
Currently, the Bass Centre has an office and warehouse located in leafy Surrey and is doing rather well, if you please. "Our distribution company. House Music, now encompasses Elites Strings, Bass Collection, a range of signatures basses we've designed for friends like Bruce Thomas and Norman Watt-Roy, the NS Design range, and Brian May Guitars, among others" says Barry. He adds with a smile: "I passed on the chance to distribute Ned Steinberger's headless basses in the '80s because I didn't think they were the future of bass guitars — but when the NS Design upright instruments came along, I didn't make the same mistake twice."
Thirty-three years on from the opening of the original Bass Centre, how does Barry assess the health of the current bass marketplace? "Fashion and endorsees can have such an impact on the success of gear" he concludes, "and there isn't such a scene anymore really. The guy on the street probably couldn't tell you the name of the bassist in Coldplay. Playing an instrument is hard compared to the instant gratification of a computer screen, and there are so many demands on people's time. The internet changed so many things — but we still have the memories." And so do we Barry, so do we!
Tony Bacon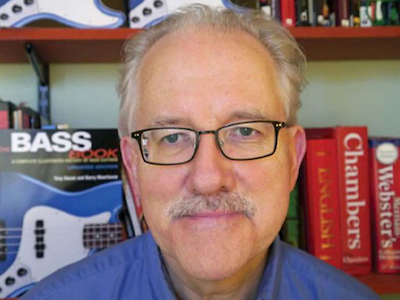 "International Musician was my first gig as a writer, in 1976. I did anything and everything for them. They were very good times, because I learned how to interview musicians and how to write. The same year I interviewed Jaco Pastorius: he was maybe my third interview. Weather Report were playing over here that summer and every bass player I knew was talking about him. The interview was interesting: I arrived at Weather Report's hotel, and the PR told me that Jaco wasn't very well and was up in his room. He wanted me to do it, though, because he thought I was from the American International Musician, a completely different magazine! I said nothing and went up to his hotel room, walked in and there he was.
"I said "I'm sorry you're not feeling well, Jaco", and he said "It's OK". I really want to do this interview. I confessed that I was from a different International Musician, and showed him a copy. He said, "That looks good. Sit down" and off we went. He was very friendly. As we talked, I noticed a double flight case in the corner of the room and asked him what was in it: he opened it and took out two Jazz basses, one fretted, and the other the fretless Bass Of Doom. I played the fretless one, and found it a bit strange because I wasn't used to fretless at the time. He then played it, and did a rather better job of it!"
"I was at International Musician for about 18 months and then went to Sound International I was the deputy editor until 1981. My first book was called Rock Hardware in 1981, which was when I met Nigel Osborne, who is now my business partner at Jawbone/Backbeat. When Sound International folded, I was freelance for a year and wrote a column for the NME about instruments. Then I became the deputy editor at One Two Testing, a magazine which started in 1983. Three years later I co-founded Making Music, where I stayed until 1991, but which went on for a long time after that. It was very successful: I remember George Martin phoning the office and saying how much he liked it. Jack Bruce was another great interviewee: that was for Making Music in the late '80s. He was a real hero of mine. I met Jean-Jacques Burnel pretty early on and I thought he was a fantastic bassist."
"I left to write The Ultimate Guitar Book, because I'd always wanted to get into books and this was a great opportunity. I've continued writing books over the years, and now there are 27 of them, at least. A high point in bass terms was a book in 2006 called 'Paul McCartney: Playing The Great Beatles Basslines'. Basically, my co-author Gareth Morgan and I sat down for a very enjoyable two weeks and listened to every Beatles live, studio and bootleg track. I'd interviewed Paul for The Bass Book. We went over to his house and chatted about his bass playing... What a day!"
"When the idea for The Bass Book's first edition came about in 1995, we wanted to cover the entire history of the instrument in a single volume. Books existed already that were dedicated to a single brand. Barry and I had access to all the players and all the instruments, so we knew we could do a good job. Now it's been updated on Backbeat, and we like to think that it's the best book of its kind. We hope your readers enjoy reading it as much as we enjoyed putting it together