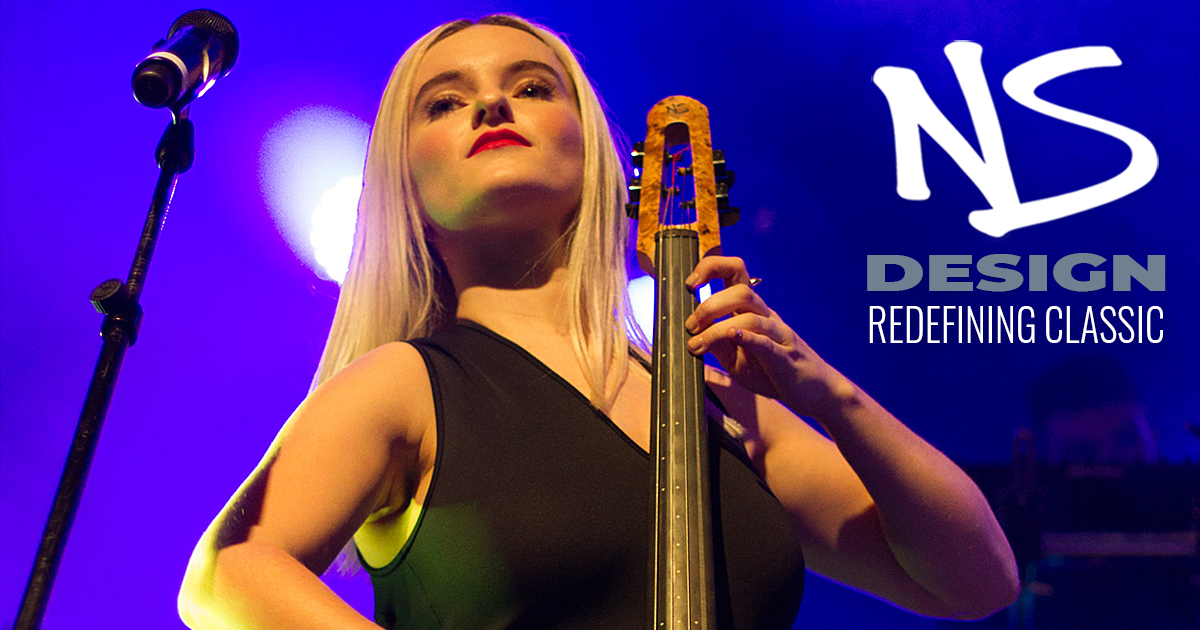 Exclusive UK Representation By The Bass Centre
Founded in 1990 by famed instrument designer Ned Steinberger, the genius behind the legendary Steinberger headless guitar design and the TransTrem™ System, NS Design has seen the visionary luthier and designer apply his revolutionary techniques to the development of a full range of electric concert instruments — Double Bass, Cello, Violin, Viola and the unique, hybrid Omni Bass — that provides modern players with the ultimate freedom of expression.
"Bowed electric instruments have been made since the mid-thirties. Unfortunately, most of these instruments are the victims of the misplaced idea that an electric instrument should sound exactly like its acoustic predecessor. I want to take it a step further... I want to see what these instruments can do when they are set free!" — Ned Steinberger
All over the World, NS instruments have been set free by a growing number of renowned musicians and envelope-pushing artists including Bakithi Kumalo, Tony Levin, Les Claypool, Doug Wimbish, and Laurie Anderson as well as by Bass Centre customers John Paul Jones, Dave Bronze, Trevor Barry, Paul Turner, Geoff Gascoyne, John Thompson, Adrian Stout, Patrick Wreford, Calum Ingram, Corey Wallace, and George Price.
Today at NS Design, Ned Steinberger's passion and dedication to innovation continue unabated with new developments in construction techniques, tuning systems, pickup technologies, on-board electronics and support structures, thus providing NS instruments with unprecedented versatility in every conceivable performance environment.
Most recently, Ned has unleashed the radical hybrid Omni Bass, as well as returning to re-map the world of electric bass guitar design with the launch of the Radius, the ultimate evolution in his unique approach to form, function, playability & performance.
And the Bass Centre has been with NS Design every step of the way, representing the range exclusively in the UK from the very first US built incarnation of the NS upright bass, through the development of the successful Czech built orchestra of NS concert instruments, right up to the present day and the triumph of the Radius Bass.
DISCOVER THE COMPLETE NS DESIGN RANGE AT THE BASS CENTRE
With exclusive representation and decades of dedicated brand knowledge, the Bass Centre offers superlative customer service and comprehensive stocks at the best prices in Europe, with FREE SHIPPING to the United Kingdom and selected EU mainland destinations on all instruments.
A revolutionary instrument featuring a super-comfortable Diradial Body, carbon fibre Fusion Neck, NS Patented Tuning System, and a unique NS/EMG piezo/magnetic pickup system.

Pushing the boundaries of the modern electric upright, NS Double Basses combine revolutionary design with unparalleled performance and unlimited tonal response.

With a familiar 34" bass guitar scale, the NS Omni Bass is the perfect crossover between electric and upright bass. Available with 4 or 5 strings, it offers incredible tonal flexibility and playability.

A ground-breaking instrument, available with 4, 5 or 6 strings, the energetic response of the NS Cello can be tamed to deliver a delicate and precise traditional cello tone, or set loose to create exciting new sounds.

Available in 4 and 5 string versions, with traditional and fretted models available, NS Violins provide the elegance of a fine acoustic instrument as well as the freedom to explore bold, uncharted sonic territory.

With a remarkable tonal range due to its Polar™ pickup system, the NS Viola delivers a full, rich, powerful sound, capturing both bow and pizzicato techniques with stunning brilliance and sensitivity.

NS Design has cleverly designed their instruments with several options for playing with a range of interchangeable support systems that allow players total flexibility, mobility and freedom of expression.

Protect your NS Double Bass, Omni Bass, Cello, Violin or Viola with the lightweight mobility, convenience, and safety of an NS padded gig bag or the industrial strength security of a fully fitted custom flight case.

In partnership with D'Addario, NS Design presents a range of strings for all electric bowed instruments,with the focus on providing fullness of tone, balance, and the highest standard of precision and performance.

Advanced molded fibre construction provides enhanced stability, balance, and tactile response, allowing players to realize fully the potential of their NS Double Bass, Cello and Violin, as well as any traditional acoustic instrument.
INTERNATIONAL NS DESIGN ARTISTS