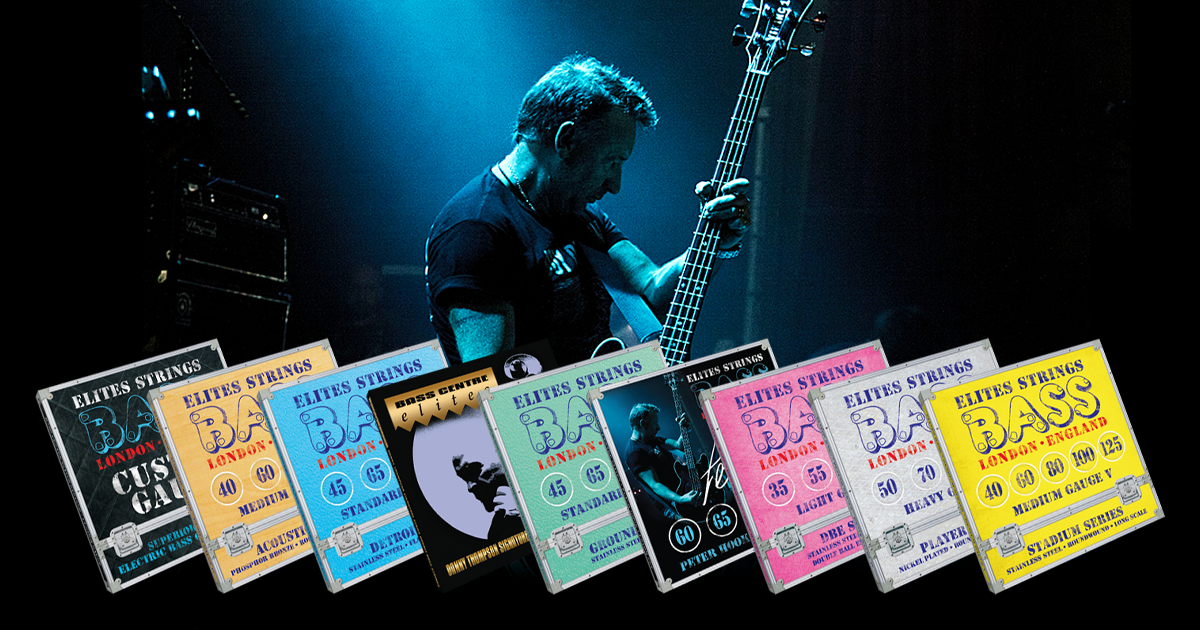 ELITES SUPERIOR QUALITY BASS STRINGS
Established for over 30 years, manufactured to the Bass Centre's exacting specifications, and informed by our experience and communication with pro players throughout the world, Elites are the strings of choice for a dedicated army of musicians who demand quality, durability and consistent tone.
VISIT THE ELITES INTERNATIONAL ARTISTS GALLERY
Whether you want the brilliance of our stainless steel Stadium Series, the warm response of the nickel plated Player Series or the deep, classic sound of Detroit Flatwounds, there is an Elites matched gauge set or custom combination that will provide the perfect foundation for every perfomance.
The Bass Centre's original, stainless steel, roundwound, matched gauge sets. Bright, responsive & durable, Stadium sets deliver superb harmonic overtones and punchy lows.

Nickel plated Elites Player matched sets deliver all the definition and versatility of a roundwound string with a punchy, warm tone and a noticeably smoother feel than steel.

Elites classic bright, long lasting, stainless steel, roundwound matched gauge sets, engineered specifically for headless basses from Ned Steinberger, Status, Hohner, Cort, and beyond.

Custom sets for upright & electric bass, designed in conjunction with Brit bass masters Danny Thompson and Peter Hook, and manufactured to their exacting specifications.

Elites matched gauge Detroit flatwound sets are fast becoming the string of choice for modern players looking for deep, balanced, soulful low-end punch and a super-smooth, polished feel.

Elites Groundwounds are a brighter sounding flatwound string with a multi-layer wrap micro-ground to an exact gauge and smoothness - kind to your frets and easy on the fingers.

Our most popular Elites gauges for medium scale (31.5" - 32") instruments, with a choice of stainless steel or nickel-plated "Hamburg Players" roundwound, matched sets.

Crafted from corrosion resistant materials, Elites Phosphor Bronze bass strings deliver a rich, balanced tone that is warm and bright, with excellent harmonic response.